CAM is proud to have had the opportunity to work as a repeat client for Chesapeake Employer's Insurance Company on their corporate headquarters renovation projects. This task, which fundamentally began as a major fire and water damage restoration effort, transitioned into an opportunity to retrofit two floors of their facility to meet the demands of post-Covid office culture. The heart of this project involved the construction of a new central break area, which functions as a community gathering space with a variety of seating configurations, food service offerings, and culinary equipment. Architecturally, the goal was to transform the affected floors into a visually distinctive environment full of glass and metallic finishes, with a variety of technology-rich huddle rooms, hot desking areas, etc. An acoustical cloud ceiling system with exposed structure was one of the key design choices JMT Architecture made to accentuate the furniture and glazed ceramic backsplash below, ushering Chesapeake into a sleek new era of office style.
Critically, CAM was able to conduct work on floors 2-3 while maintaining a continuous working environment for staff on the floors above and below. Communication was key in ensuring that life safety and security systems remained functional during this time, as both staff and workers needed access to the facility at various hours of the day. CAM was also able to save the owner tens of thousands of dollars by salvaging extensive ceiling grid sections, and by re-installing nearly all of the prior doors, frames, and hardware that had been removed and stored on-site during the demolition phase.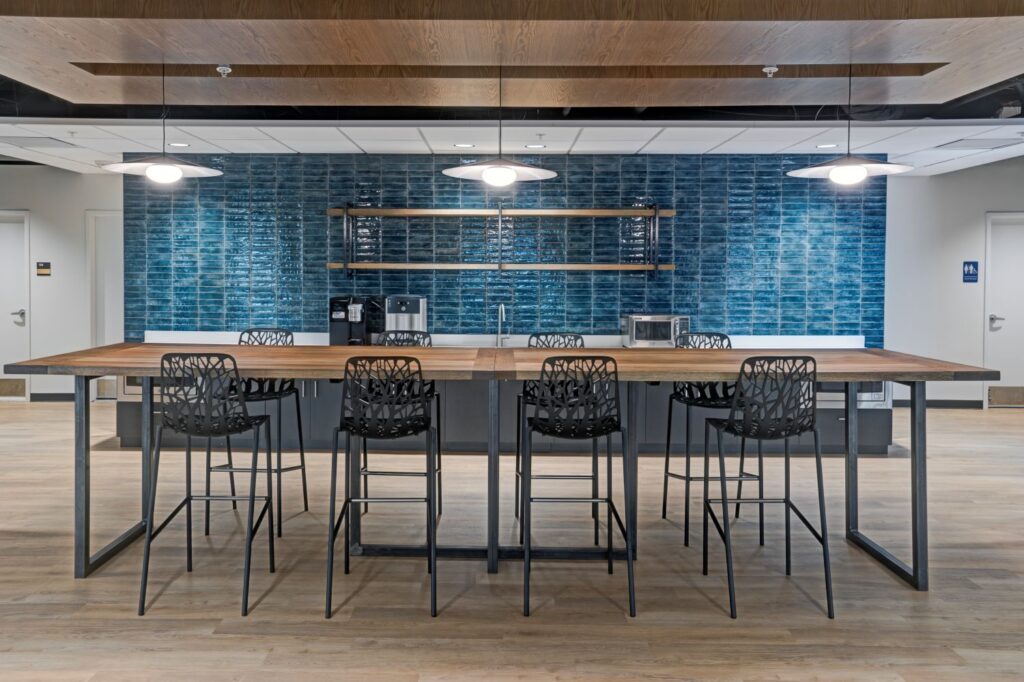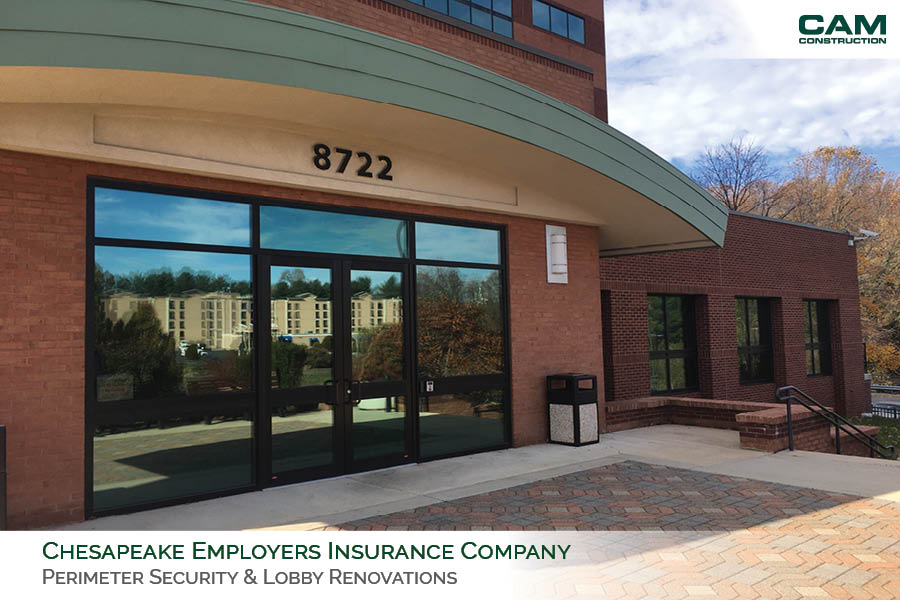 Our team completed the building security and site perimeter renovations to Chesapeake Employers'​ Insurance Company's building in Towson, MD.
This project incorporated the removal and replacement of all first floor glass with the installation of specialized high-grade security glazing. All parking garage security screening was replaced with anti-theft wire mesh/framing.
We also renovated the offices on the first floor and relocated the security station to a new secure vestibule, all while the building remained occupied and fully functional.
Architect: JMT Architecture