"This building really does mark a significant step in the fulfillment of our promise to students and families in Baltimore. A fulfillment of the commitment to provide our city's children with safe, modern learning environments..,"
– Dr. Sonja Santelises, Baltimore City Public Schools CEO
PROJECT FEATURES
Baltimore City Public Schools (BCPS)
New construction (Replacement Schools)
94,000 sf (each)
Zero Energy prototype school design, LEED Platinum Certification
On-Site Renewable Energy
Insulated Concrete Form (ICF) Wall Systems
Graceland Park-O'Donnell Heights Elementary / Middle School
Within inner city Baltimore, two existing elementary/middle schools were replaced with the city's first two zero energy school facilities, which are now open for the 2020-2021 school year.
Located within three city blocks of each other and five miles east of Baltimore's Inner Harbor, the prototype schools demonstrate Baltimore's focus on project-based learning, sustainability, and energy-conscious design for schools in an urban environment.
Holabird Academy
CAM Construction was the Construction Manager for the Bay Brook Elementary/Middle School replacement project, which just achieved LEED Gold Certification. The Gold Certification exceeded original program requirements of LEED Silver for this project.
There were a number of innovative Green Strategies used during both the design and construction phases of Bay Brook's project.
Here are some of the quantifiable GREEN ACHIEVEMENTS from the project: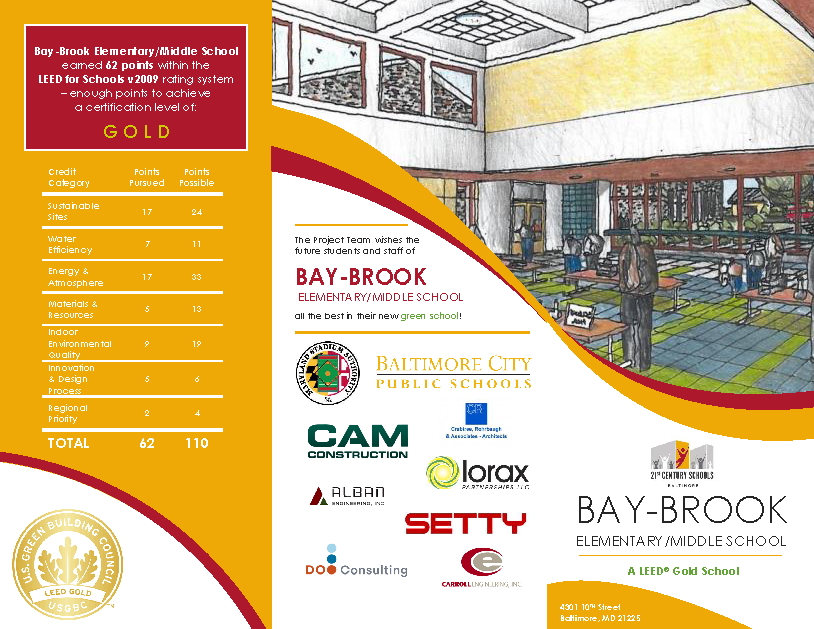 83% – 83% of demolition and construction debris was diverted from disposal in landfill through either recycling or salvaging.
39% – Due to the optimization of its HVAC system and lighting equipment, Bay Brook achieved a 39% energy use reduction on an annual cost basis compared to a typical baseline building of similar design.
38% – Through the installation of efficient water fixtures, Bay Brook achieved a 38% reduction in water use compared to a typical baseline building of similar design, on an annual basis.
23% – To cut down on needless transportation emissions, 23% of the project's total material costs were spent on building materials that were extracted/harvested and manufactured within 500 miles of the project site.
17% – 17% of the project's total materials cost were spent on building materials with recycled content.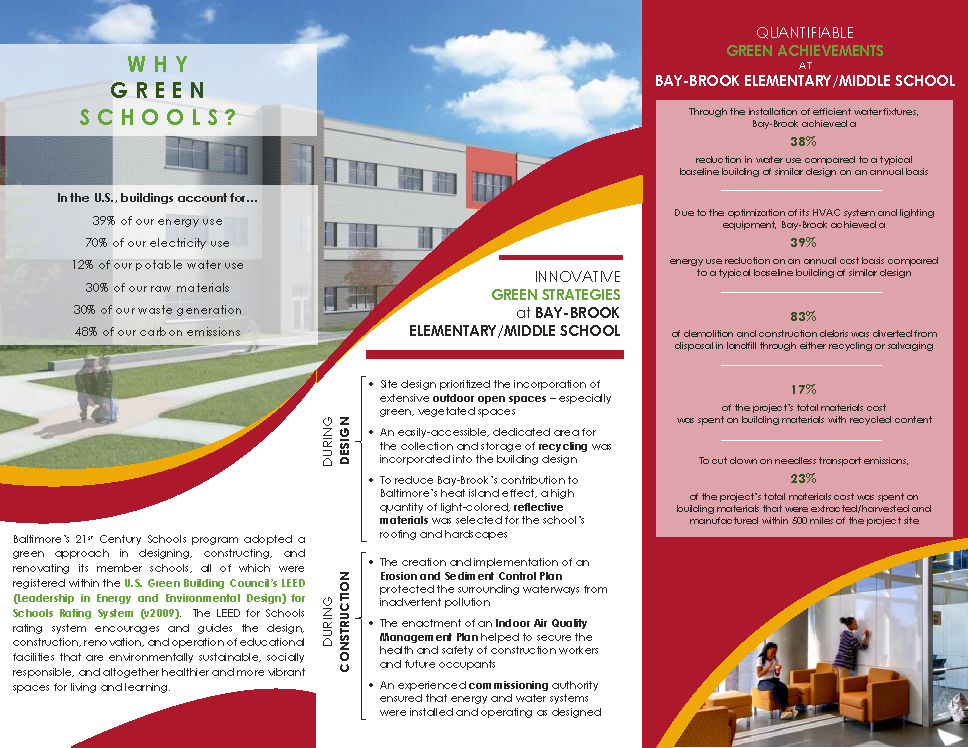 Brochure created by Lorax Partnerships, LLC
A drone captured these pictures in August, showcasing the construction progress at Holabird Elementary Middle School in Baltimore, MD. Our team has been hard at work this summer and this project is tracking a LEED Platinum certification.
Holabird is a Net-Zero project featuring Insulated Concrete Form (ICF) wall construction and will be featured in one of our next updates. Learn more about how we can provide cost and time savings on your project, while meeting eco-friendly program goals.