CAM Construction is proud to have attended the "Grand Re-Opening" ceremony of the newly renovated and upgraded Maryland Food Bank! CAM served as Construction Manager at Risk for ~21,000 sqft of interior expansions and additions that took place at their 100k sqft headquarters facility in Halethorpe, MD. This project will improve both the capacity of the Food Bank to serve our local communities in desperate need of assistance, provide educational opportunities to certify new chefs and kitchen managers from underserved communities, and greatly enhance the administrative office space needed for the nearly 200 hardworking men and women who allow the Food Bank to execute their vision.
Our scope of the work included a substantial Kitchen Expansion and Renovation, building a new Loading and Receiving Queue, Dry Storage Area, state-of-the-art Conference Rooms, Private Offices, and Collaboration Areas, a new Break Room & Training Area, and a New Celebrated Entry to the sorting warehouse for volunteers and employees. This project was extremely challenging given the need to establish a temporary kitchen, insert completely sound-proof mezzanine structures within an occupied facility, interface additions with a pre-engineered building, and keep the Food Bank completely operational over the course of construction, given the mission-critical work that they carry out on a daily basis. Check out some photos of the new space and be sure to stay tuned for more updates on CAM projects!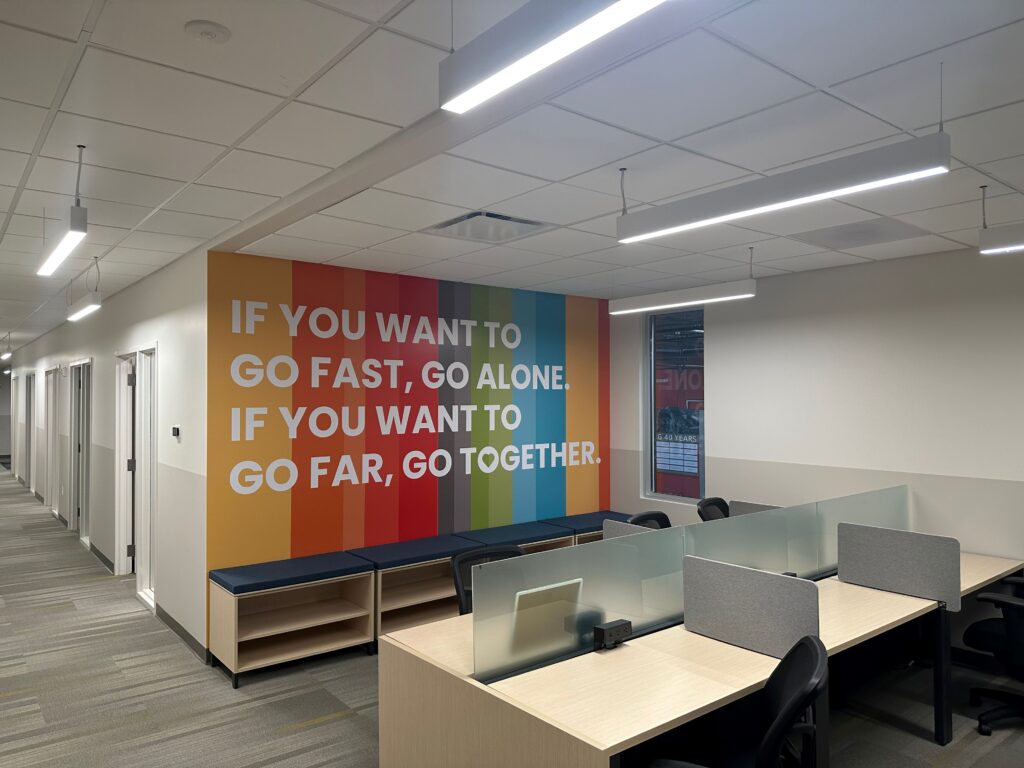 Check out these stunning renderings of the future Baltimore City District Courthouse by BFM Architects! The side-by-side images of the Courthouse detail both the incredible work CAM has done so far and provide a sense of scale and complexity of the exterior facade construction to come. A sophisticated metal panel and curtainwall glass system, plus an entirely new roof system, will be installed to support energy-efficient equipment.