CAM to provide Pre-Construction Services for Maryland Food Bank's – FoodWorks Expansion Project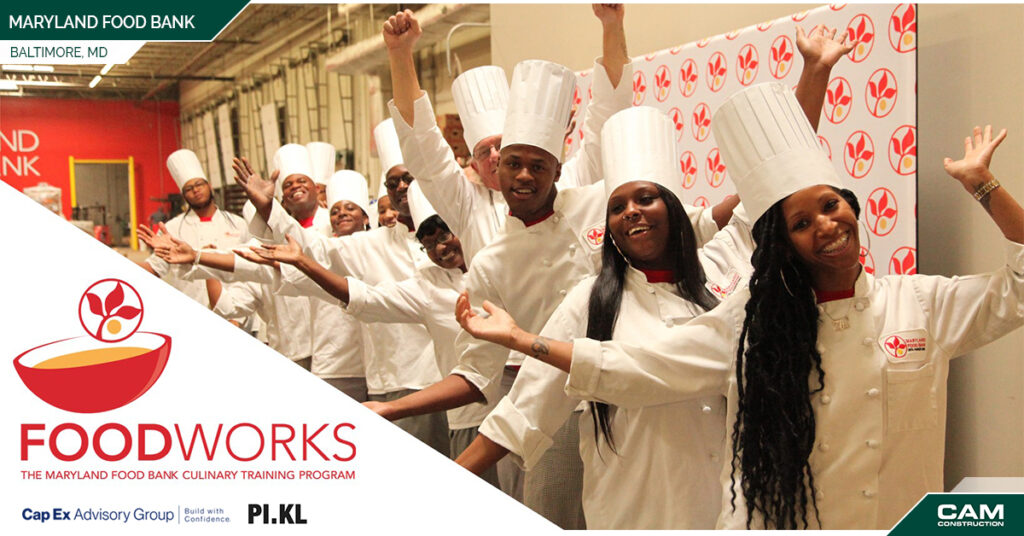 CAM Construction is providing Pre-Construction services to assist the Maryland Food Bank with their upcoming FoodWorks Program Kitchen Expansion & Office Relocation project.
Our team will partner with Cap Ex Advisory Group and PI.KL Studios. Through a unique collaboration with the Community College of Baltimore County (CCBC), the FoodWorks Program offers a fresh start to low-income individuals with 12 weeks of intense culinary training. FoodWorks students learn basic cooking skills while converting fresh produce and other perishable foods into healthy meals for distribution to those in need.

As part of the program, Maryland Food Bank chefs guide students through a curriculum that includes fundamental culinary techniques, menu planning and job-training.
With guidance and support from the Maryland Food Bank, FoodWorks graduates have been hired at leading restaurants and institutional caterers, including Woodberry Kitchen, the Horseshoe Casino, Compass group, The SEED School, and Baltimore County Public School. FoodWorks graduates earn well above the minimum wage.